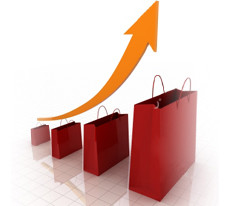 Google Product Feed for Shopify, BigCommerce, Magento Stores
Get your products listed in Google Shopping! Listing in Google Shopping (previously known as Google Product Search, Froogle, and Google Base) can increase traffic to your store and drive sales. Google Shopping allows you to buy clicks for as little as $0.01 per click! With our free trial, you can be sure your products are listed with no obligation. Our feature-rich data feed service is a flat monthly rate for up to 500,000 products, with a minimal charge for additional products. There are no contracts and you only pay for feeds you use!
Our web-based product feed software supports product feed submission to Bing Shopping, Facebook, Pinterest, and other comparison shopping sites. We currently support BigCommerce Data Feeds, Shopify Data Feeds, Magento Data Feeds, Wix Data Feeds, WooCommerce Data Feeds, Volusion Data Feeds, Turbify (Yahoo) Data Feeds, and AspDotNetStorefront Data Feeds. We have been submitting feeds daily since 2004, and now submit over twelve million unique listings to all the major shopping engines!
Latest Blog Posts and Support Articles
Standard Feed Features




Easy-to-use - setup everything online with minimal technical knowledge
500,000 products per store (extra charge over 500,000 products)
Add any number of stores
Optimized, up-to-date data feed templates for all major shopping sites
Unlimited attributes and filtering rules
Technical support included by email and phone
Compatible with all versions of Yahoo!, Magento, Volusion, and AspDotNetStorefront stores
Non-Invasive - we do not modify your store or require write access
No Obligation - no contracts; account credit refundable anytime

How Does It Work?




For a flat, monthly rate, here is what we do:

Upload a data feed file of your product listings on a daily basis.
We monitor your submissions for errors.
We will ensure the data feed is formatted according to the official specifications.
We will update your feed formatting to comply with changes in the specifications.
We will provide technical support if you encounter issues.




What you do:

Create and maintain a merchant account with the shopping search engine.
Set up your feed in our system using our non-technical instructions. Technical support is free, or for an extra fee, we can set up and optimize your feed.
Check your merchant account to ensure that your listings are approved and error-free.
Add funds to your account when funds run low (email notice will be sent).
Sit back and watch your sales increase!




Increased site traffic and sales are not guaranteed. Results may vary.

Online Data Feed Management




Our service gives you total control over your data feed via our user-friendly, well-documented website. Get the convenience and freedom to control all aspects of your data feed right from your web browser!




Fully Automatic - automatic, monitored submissions
Review - ability to review your product data online before it is submitted
Available - manually run submissions or download your data feed file anytime
Filtering - set up criteria to exclude products from the data feed
Customizable - submit data from custom fields in any format
Google Analytics Integration - add tracking codes to your product URLs