Free Product Data Exporter for Magento
Overview
This free, open-source script exports product data in CSV format from any Magento store. It is specially designed to support very large stores (100,000+ SKUs). Unlike typical modules or extensions, this is a read-only, standalone script that requires zero changes to your Magento installation. This script can be used stand-alone, or with our Magento Google Shopping Feed Service.
New Features!
Support for Magento 2.0 (all versions)
with full backward-compatibility to all Magento 1.x versions
Export exchange rates and shipping rates (contact us for details)
Improved product URL export
Improved security and more PCI-compliant
Installation Instructions
Upgrades
Beginning with version 2017-06-17, the password is saved encrypted in a separate configuration file. To upgrade, you can simply overwrite the previous code file and keep the configuration file.
About the Product Export Code for Magento
The product data exporter code consists of a single file that you install in your website. This will create a page on your website from which you can download all the product data from your store.

The software lets you choose your Magento website, and then it exports the product data in CSV format.
The software is provided open-source and free, licensed under GPL. The exported CSV file can be imported by our Magento Google Shopping Feed Service, giving you the ability to generate data feeds and get listed in all the major comparison shopping engines (Google Shopping, Bing Shopping, Facebook, Connexity, etc.).
The code accepts URL query string parameters to generate the output. 'Command' must be set to 'Export' and 'Password' must be set to the password stored in the configuration file. 'Store' must be set to a valid Store ID. The script is designed to disallow a blank password. The final URL will look like the following, where bold parts should be customized to your store:
http://www.mystore.com/aten_exporter_for_magento.php?     ⏎
    Command=Export&Store=1&Password=ABCDEFG
Export Options
By default, out-of-stock items are included in the export and disabled items are excluded. The script supports the following export options to override this behavior:
Exclude out-of-stock products (stock_status=0)
Include disabled products (status=0)
Compatibility
Compatible with all versions of Magento: 1.0, 1.1, 1.2, 1.3, 1.4, 1.4.1.1, 1.4.2, 1.5, 1.6, 1.6.1, 1.6.2.0, 1.7, 1.8, 1.8.1, 1.9, 2.0.x, 2.1.x, and up
Compatible with both Community Edition (CE) and Enterprise Edition (EE).
Notes
This is an extremely high-performance script carefully designed to run on the largest stores with minimal resource usage. If some information is not being exported by this script, please let us know.
The output is compressed to save bandwidth, if supported by the browser.
The output is encoded in UTF-8. Use OpenOffice Calc if your version of Excel does not support UTF-8.
Direct Download Links
Click on aten_exporter_for_magento.php to view the code directly.
Click on aten_exporter_for_magento_config.php to view a sample config file. The sample config file will not work unless an SHA-256 hashed password is specified.
Screen Shot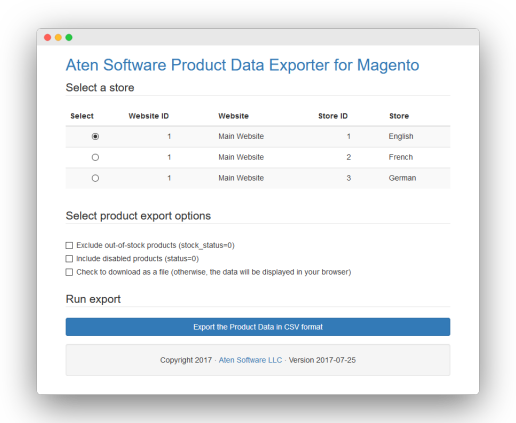 Command Line Instructions
Install the exporter script into your Magento website directory as described above.
Run the following command:
wget --output-document=export.csv 'http://www.store.com/aten_exporter_for_magento.php?Command=Export&Store=1&Password=ABCDEFG'
Be sure to set the output file name, website URL, store ID, and password to your configuration.
For Windows, use double-quotes instead of single-quotes.