osCommerce to Google Shopping Product Feed Service
Get listed higher in Google Shopping
and boost your sales!

➧

Read our Customer Reviews · 18 yrs experience · One Month Free Trial, then $24.90 / month
We submit the product listings from your osCommerce store to Google Merchant Center on a Daily basis for a flat monthly rate.
We also support other channels like Bing Shopping (Microsoft Ads), Facebook/Instagram Product Ads, and Pinterest Product Ads.
To get started, please Register Today!
(Free Trial, No contract or credit card needed)
Special Features of our osCommerce Feed Service
We support most versions of osCommerce, including osCommerce 2.2, osCommerce 2.3.x, and CRE Loaded.
Integrated via the osCommerce XML product data export.
Refer to our Google Feed Setup Guide for OsCommerce for further details.
Register Today to start your Free Trial!
Higher Data Quality means Higher Rankings and more Sales
We closely follow all the latest Google Product Feed Specifications, so you don't have to.
Take advantage of our Free Trial to see the following benefits before you buy:
List more active products
Have fewer diagnostics errors
Have fewer diagnostics warnings
More data fields filled in
More data fields with correctly formattted data
Reliable, daily feed updates
Access to a feeds expert for tough questions
We switching to our feed service from another provider, we take care to preserve your product IDs to maintain sales, click, and performance history tracked by Google.
Start Your Free Trial! (No contract or credit card needed)
Actual Before and After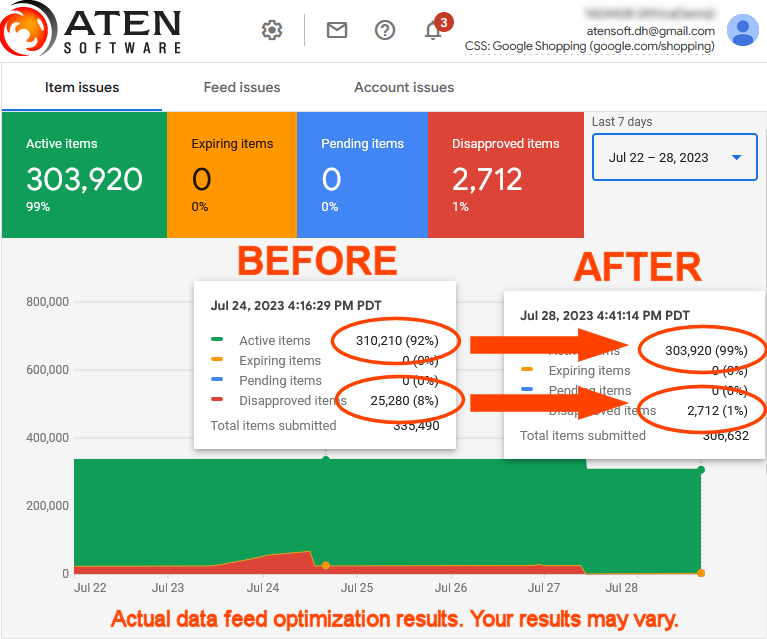 This customer with listings in multiple countries switched from another feed provider in July 2023 and immediately saw improved data quality with our Google Feed Setup and Optimization Service, with disapproved items going from 8% to 1%.
Reviews
To find unbiased, real customers reviews, please visit Aten Software Reviews and Customer References. We never offer incentives to our customers to post reviews, although we do kindly ask from time to time.
Why use our Product Feed Service versus another app?
Improved ranking with higher data quality

Proprietary Smart Fields to improve size, color, gender, age group, and GTIN/UPC data quality.

Fully customizable

Customize your field mapping, filters, and scheduling, or request Free Programmed Simple Rules

Over 18 years of expertise in data feeds

We specialize in data feeds and only data feeds!

Exceptional technical support, including guidance for Google account suspensions and disapprovals

Expert phone and email support for all your feed-related questions
Questions? Contact us now

500,000 SKUs, one flat rate

We specialize in gigantic feeds with millions of SKUs. $3.00/month for each 500,000 SKUs overage.

Non-intrusive app/service

Our service only requires granting read-only catalog access, and makes no other changes to your store
We do not require access to your Google Merchant Center account.

Flexible billing

Entirely pay-as-you-go with no contracts. Unused credit is refundable upon cancellation (billing terms).
Simple Programming Rules are Free
Standard feeds include Simple Programming rules. You simply email us the rules you want implemented, and we hand-code these into your feed using best practices.
Example: Another feed provider might let you define a rule like /title/ = /brand/ + " " + /title/ via their cumbersome dashboard. If you ask us to do the same, we'll additionally ensure there's just one space between brand and title, remove trailing and leading white-space, convert all-caps text to title case, and make recommendations about including other fields in the title and description.
Result: Get better data quality in less time, with no need to learn a complex feed management interface!
Supported Shopping Channels for osCommerce Stores
Use our feed service to extend the reach of your product ads by listing in additional pay-per-click advertising channels, or affiliate programs where you only pay per sale. Additional feeds are only $8.40 per month!
We can quickly configure support for any of our supported engines, as well as create customized feeds.
Standard Feed Plan Features
Plan
Standard
SKUs

Unlimited


(A small additional charge applies to feeds over 500,000)
Frequency
Daily
Channels
One
Contract
None; Pay-as-you-go
Price
24.90/month
Complete Pricing Details
Feed Dashboard
Included
Fixed Feed URL
Included
Simple Programming
Included
Smart Fields
Included
Custom Attributes
Unlimited
Granularity
Variants by default
Monitoring Service
Included (Google only)
Custom Feed Plan Features
Custom feed plans include all of the above Standard Feed Plan features, plus the ones listed below. Custom feeds are useful if you want to submit product data to specialty channels, or you require an inventory management feed to keep your store up-to-date.
| | |
| --- | --- |
| Plan | Custom |
| Scheduling | Up to Hourly |
| Real-time | Available |
| Destinations | FTP, SFTP, AWS S3, Third-party APIs |
| Output Formats | XML, alternate character encodings |
| Supplemental Data | Google Sheets, XML, XLSX/Excel, Third-party APIs |
| Inventory Management | Sync inventory (BigCommerce and Turbify only) |
How to Get Started
First, register an account. No credit card is needed to register, and your account will start with a free trial credit balance.
Then, option one is to choose our Feed Setup and Optimization service for a $49.00 one-time fee. Refer to our Google Feed Setup Checklist for instructions.
Alternatively, option two is to follow the do-it-yourself instructions in our Google Shopping Setup Guide.
Feel free to Contact Us if you need assistance.
To get started, please Register Today!
(Free Trial, No contract or credit card needed)